« Current State of my Art | Main | Bring A Painting to Work »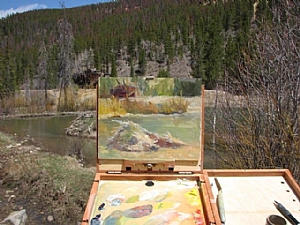 Painting at Peabody Placer area, Breckenridge, CO
What makes for a perfect painting day? For me it is little wind, and finding a spot that speaks to me in a visual way. At first glance this area might seem dull to many...but by using your "artist eye" if you stop, quiet yourself and really begin to look, then you really begin to see...I saw all the beautiful subtle greens and golds of early spring as well as the interesting colors in the water. The light hitting the beaver dam and the crumbling mine..The painting was more than the dam, etc...it is the light I love so much.This was a morning painting..the wind ended my fun for the day..

I also love the gifts that show up when I am outside painting...this time I was greeted by several dogs accompanied by humans hiking...one dog acted like he wanted to learn how to paint. I also observed a coyote observing me from a safe distance. He really blended into the distant brush.
Comments