« Challenging Myself...or Artist Torture | Main | How Do I Determine my prices? »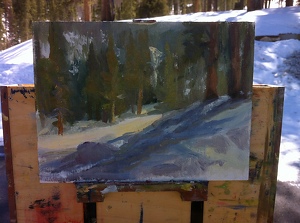 Plein Air Study, 6x8"© Amy Evans
I love my outdoor office. I accept no phone calls, don't look at the computer, and rarely have appointments. The only noise comes from birds and the breeze through the trees. I can usually work uninterrupted. I occasionally have curious visitors, depending on where I am painting.
Some friends and family don't consider this work. What could be more fun than painting outdoors on a perfect day?
What you see is the beauty of painting...You don't see the work that goes into every stroke. You don't see the concentration that painting demands as well as the planning. There is a lot of hard work behind every painting: years of learning about light, color, value, composition, brush techniques.
Painting also requires discipline. I must paint regularly, and I must challenge myself so that I don't get complacent.
Being an artist can be a very rewarding job. I love it when my painting and I are in sync with our subject matter. I am thrilled when a painting is sold and becomes a part of someone's life. It is exciting when someone while looking at my painting experiences the same feelings I had when I painted the piece.
I love my work!
Comments
1 Response to Painting IS A Job
Addren Doss
via amyevansart.com14 months ago
Well said, Amy!!
* indicates a required field