Thoughts About the Art Life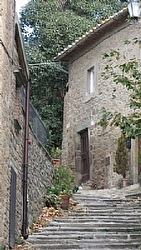 Cortona
I have just returned from a tour of Tuscany with my art buddy Carol. Pam and Sam of Tuscany Tours were wonderful. It was artist's heaven there...everything was art: food, wine, architecture, even the shopping was an art form.
I was in awe of the art that I had studied so long ago in college...what was also gratifying was to see some others in our group learn to see art for the first time. Seeing actual paintings and sculptures is an enriching experience.I brought back a revived love of art history as well as a reverence for the truly great work that I saw.
I recommend Tuscany Tours for opening your eyes as well as your soul...now I hope to paint Tuscany!
What is most important is that you go see actual art...visit an art museum or gallery...you life will be enriched by that experience.
Comment on or Share this Article →