Thoughts About the Art Life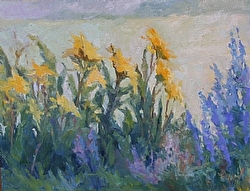 oil on panel. 14x18", Amy Evans
There has been a flurry of posts on Facebook recently about the lack of contemporary realism in art museums. The Phoenix Art Museum is a good example of this. A friend and I recently visited this museum and many of the galleries were closed. The museum was not busy with the exception of an exhibit of clothing and preparation for a private lunch event in one of the main galleries.
We toured the galleries where we saw primarily installation art as well as cubism and abstraction art sprinkled in with a Monet and a few O'Keefes. Many of the cubist pieces were very dull and there were some "shockers" which nowadays are not so shocking.
We found out the private event was a lunch and preview of the Cowboy Artists of America's annual show and fundraiser for the museum. It was packed. My friend remarked that this is always a popular show.
Interesting....Realistic art makes money for museum that primarily exhibits abstraction.


"Water Colors", 12x16" oil on linen. Amy Evans
Comment on or Share this Article →