Thoughts About the Art Life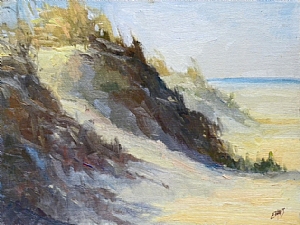 "Sandscape", 9x12", oil. © Amy Evans
Why do some paintings seem to paint themselves and others are a struggle? I had the "magic brush experience" a couple of weeks ago while painting at a plein air event in North Carolina. It is such a wonderful experience to feel that you are in sync with a creative flow. I forgot about technique, etc., and just painted. I did walk around the site and asked myself why I loved the spot I chose. I then really looked at it and trued to absorb the moment.
I forced myself to do a value thumbnail and made some compositional decisions. Taking time to absorb, think, and do some decision making helped me to paint and stick to my plan. Those were all factors in the "magic".
I also feel that sometimes we are in touch with our creative spirit. It leads us to paint. We get in the creative zone and forget about painting for any other reason except to create. It is a place we try to go everytime we pick up our brush. The result is a painting that has an energy.
You can see the other paintings on my website.
Comment on or Share this Article →