Thoughts About the Art Life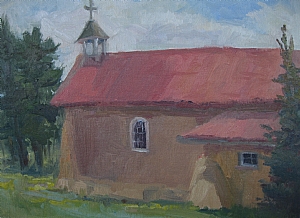 "Seco Shadows", 12x16" oil, © Amy Evans
I generally like being represented by galleries. They advertise for me, talk to collectors about my work, display my paintings, work out commission details, deal with taxes, shipping, etc. They pay me on time. They earn their commission.
Most of my galleries do all of the above. Recently I did discover that a gallery that represented me didn't pay me for a painting that was sold. I was paying them a gallery visit and refreshing their inventory, when I discovered this information.
I was patient, in spite of my intuition, and let them have some extra time, even though they were in violation of their contract. Time went and the gallery closed without paying me. Court costs aren't worth the time and money that would be envolved since it wasn't a huge amount of money.
This practice isn't isolated. Many artists are having similar problems, even with high-tier galleries.
Will I continue to be represented by galleries after being "burned"? Yes and no.
I will do business with the galleries that continue to earn their commission. I will be careful to research galleries that represent me in the future. I will talk to their artists about their gallery's business practices. I will also carefully review their consignment agreement, and if they don't have one, I will provide my own.
Even if you do your homework, there are no guarantees. In this instance that gallery at first was doing a decent job. Things began to change as the economy began to affect art sales.
I will not be represented by a gallery that does not display my work on a continual basis, promote my work, have a website presence, or pay sporadically. I also expect a gallery to have regular hours and have a clean and cared-for appearance. I also expect them to care for my work and frames while in the gallery.
I also observe the treatment towards the person coming in the door. Are they friendly? How do they promote the work they represent? I ask myself the question, "How do I want to be treated?".
A gallery and an artist must have a good relationship in which both want each other to succeed. It is a trust.
Comment on or Share this Article →
"Anyone Can Paint" is the description for the oil painting class I teach in the Arts District in Breckenridge, CO. I really do believe that anyone can paint. I have seen it happen. The key is a deep desire to learn and to dispel any fears or previous bad art experiences. That is the difficult barrier to overcome. It is my mission to dispel those fears as well as those expectations.
The techniques of mixing, brushwork, and composition can be learned. It is like learning musical scales. It does take practice and work.
We also have to learn to see. I think that is both difficult and fun. We have listened to our brain tell us what something looks like for ? years, so it takes time and effort to shut the brain off and learn to look.
Painting can be a wonderful form of relaxation once we get over trying to paint what we think should be perfect. Painting is a means to enjoy our surroundings in a profound way. Yes, painting can often be frustrating. I have scraped off many paintings because they didn't meet my expectations.
I urge you to try painting. Find a good teacher or just get some paints and play! Ignore any in-house art critics, who somehow think they know a lot about your art, even thought they probably have never painted.
Stay away from the money trap. Paint for pleasure, not for show. Anyone CAN paint...the process is what is important and priceless..
Above all...enjoy the experience!
"Dunes", oil on linen© Amy Evans
Comment on or Share this Article →